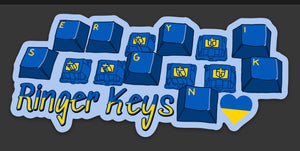 In-stock and shipping now!!!

We're usually very private with our charitable donations but Ukraine needs help right now.
Buy a sticker for a cause!
If you'd like to add a sticker to your order, it weights next to nothing and won't increase your shipping costs.  Please select the Add-on option.

If you don't need any other keyboard supplies at the moment, please feel free to select the US letter option and save the shipping costs.  We'll send in in an envelope, untracked, USPS first class letter.


Thick, durable vinyl stickers

Resistant to scratches, water & sunlight
Q&A:
Can I donate more than $5?
Add as many stickers as you'd like for $5 each. If you don't want us to send so many, leave a checkout note as to how many you'd like, or gift them to friends, or tell us to mail them to Ukraine.
Where and how often will the money be donated?
RingerKeys is partnering with MK4UA.com and will be donating weekly to those official fundraisers they've vetted listed here:
We'll be uploading receipts to them as suggested on their main page.