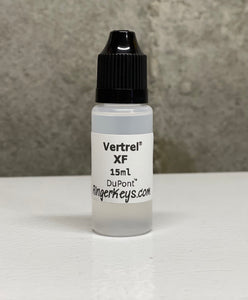 DuPont™
Ships in a 15ml dropper bottle with a childproof cap.

Vertrel® XF, is a solvent designed for many things, including cleaning of fluorocarbon lubricants like Tribosys

™

.

A very mild, nonflammable solvent. Excellent compatibility with most plastics. Typical applications include: cleaning and rinsing, drying, particulate removal, and removing PTFE release agents.

Vertrel®XF, with its lower viscosity and higher density, results in a thinner boundary layer, which enhances cleaning. Common aqueous cleaning fluids, mixtures of water and detergent, have higher viscosities and lower densities compared to Vertrel XF, making these fluids less efficient.


Can be used for cleaning:
stabilizers

switches 

brushes
Usage varies, but can apply to microfiber cloth and wipe away previously applied lubricant or spill.  
Can be used with a brush for harder to reach application points.
Compatible with ultrasonic cleaning methods.
Compatible with most plastics
ABS

Acetal
Epoxy
Ionomer
Liquid Crystal Polymer Phenolic
PVC, CPVC
PTFE, ETFE
Polypropylene
Polyethylene
Polystyrene
Polyester, PET, PBT Polyphenylene Oxide, PPO Polyimide, PI, PEI, PAI Polyetherketone, PEK Polyaryletherketone, PEEK Polysulfone
Polyarylsulfone Polyphenylene Sulfide, PPS
and elastomers

Buna N, NBR, Nitrile Butyl Rubber, IIR
EPM, EPDM, Nordel® Natural Rubber, Isoprene Urethane
Buna S, SBR, GRS Chlorosulfonated PE Polysulfide Neoprene
Viton® B Silicone
Incompatible with Acrylic
Compatible with most metals
Zinc
Stainless Steel
Brass
Aluminum
Copper
MSDS available upon request


We do not accept returns for lubricants or cleaning agents as it would be impossible to guarantee they were not tampered, contaminated, or stored improperly.
***Use Warning***
Although Vertrel is chemically stable and non-hazardous please wear gloves and place a protective layer of drop-plastic below any working surface.  
Please clean up any accidents with a microfiber cloth.
Ringer Keys is not responsible for any damages which occur as a result of untrained or unsupervised use.  This chemical is for industrial use only.