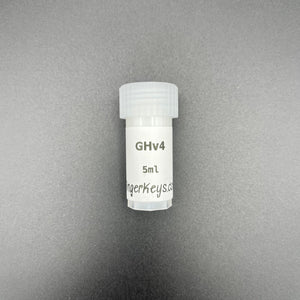 GHv4
 With motivation from the community, specifically Bassett, we have stood on the shoulders of giants.  
Tested the many recipes shared by the community and resisting the popular, "mix what I have left to make something with a good consistency," we have, what we think is the best representation of GHv4.
GPL 206g2 and 106 oil in a 10:3 ratio

tested at temperature extremes   




aerospace approved*

automotive approved*

nice and smooth

slightly less viscous than 205g0

good on stabilizer housing and wires

appropriate for linear switches
MSDS available upon request
We do not accept returns for lubricants as it would be impossible to guarantee they were not tampered, contaminated, or stored improperly.
***Use Warning***
Lubricant can not be cleaned with soap and water and is resistant to many solvents. 
Although the lubricant is chemically stable and non-hazardous please wear gloves and place a protective layer of drop-plastic below any working surface.  Spills are difficult to clean, and the lubricant will transfer from an operators hands to any surface they may touch.
Please clean up any accidents with a microfiber cloth.
Ringer Keys is not responsible for any damages which occur as a result of untrained or unsupervised use.  This chemical is for industrial use only.