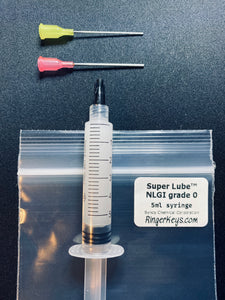 Stabilizer Lubricant
5ml in a capped Luer-Lok syringe 




18 Ga. 1.5" Industrial Dispensing applicator Tip

20 Ga. 1.5" Industrial Dispensing applicator Tip

shipped in crush-proof cardboard 
We do not accept returns for lubricants as it would be impossible to guarantee they were not tampered, contaminated, or stored improperly.
18 Ga. tip is identical to the one used in the write up below, and the 20 Ga. tip may make it a bit easier to access the stabilizers on a factory or fully assembled keyboard.
There's an amazing write up on r/mk detailing how to apply Super Lube to the stabilizers, copied here with permission from the OP:
So the conventional method of lubricating stabilizers is to dip/paint the wire with the chosen lubricant and then said wire is then inserted into the stabilizer housing.
The problem Ive always had with that is that its a relatively messy method with allot of lubricant getting onto the housing of the stabilizer, a non issue if a softer lube like 205g0 is used but problems arise when a harder lube such as a dielectric grease or similar is used. A harder lube has a chance of seeping between the housing and the slider of the stabilizer which will make the function of the stabililzed key very sluggish. Another problem is getting the amount of lubricant consistant on the wire when dipping into the lubricant and then making sure most of is goes into the stabiliser slider.
Now onto the solution - use a syringe.
Conclusion
This method works well to stop rattle and the application of the lube/grease is very consistant with each application and is a very precise way to apply grease/lube with no overflow which are the problems that I wanted to solve. Is the method better than just dipping the wire in the grease/lube? No, it works just as well so its up to you which method you use but imo its easier to get a consistant application with the method in this post.
Note - this method can definitely be used for a stabilizer that is already mounted to a keyboard for example a prebuilt board or if your stabilizers need retuning and you dont want to desolder.
TL;DR - Watch video in post, method works well to stop rattle. Is it a better way? Not really, dipping/painting the wire works just as well to stop rattle.
Super Lube® Grease is a patented synthetic NLGI Grade 0, heavy-duty, multi-purpose lubricant with Syncolon® (PTFE). Synthetic base fluids and the addition of Syncolon® (PTFE) micro powders combine to form a premium lubricant that provides longer life protection against friction, wear, rust and corrosion over a temperature range of -45°F to 450°F (-43°C to 232°C). Machinery lasts longer, downtime is reduced and productivity is increased.
Super Lube® Multi-Purpose Synthetic Grease is dielectric, food grade, clean and environmentally friendly. It offers good mechanical stability, does not evaporate or form gummy deposits. It will not melt or separate.
Super Lube® Multi-Purpose Synthetic Grease is an NSF registered Food Grade lubricant, rated H1 for incidental food contact and meets former USDA (H1) guidelines.
Super Lube® Multi-Purpose Synthetic Grease is Kosher Certified.
NGLI Grade 0 Grease is NLGI GC-LB Certified.
***Use Warning***
Lubricant can not be cleaned with soap and water and is resistant to many solvents. 
Although the lubricant is chemically stable and non-hazardous please wear gloves and place a protective layer of drop-plastic below any working surface.  Spills are difficult to clean, and the lubricant will transfer from an operators hands to any surface they may touch.
Please clean up any accidents with a microfiber cloth.
Industrial Dispensing tips are not bezeled like a surgical needle but caution must be exercised as it could still puncture the skin, if not handled properly.
Ringer Keys is not responsible for any damages or harm which occur as a result of untrained or unsupervised use.  This chemical and applicator is for industrial use only.